2013 SAF Growth Solutions Follow-Up
There are fewer chances for florists to get together with their peers and other members of the industry as regional conventions and conferences get smaller or disappear entirely. We all make up for it as best we can – finding new ways to connect (social media) and learn (webinars) but there is still something to be said for actually being in the same room together.
It was most obvious in some of the education sessions. A presenter would make a point that resonated and you could see the heads nodding, hear the murmurs of approval and feel the collective will to use that information, to put it into practice upon return to the shop. You can't get that in a webinar.
The same thing happened in the vendor exhibits. Florists are used to hearing from their sales reps and working with support agents but here they could actually speak with senior management of some of the bigger companies and the founders and owners of some of the independents.
That is a very powerful thing and it leads to some great conversations. I spoked to a few long time and very satisfied clients that had questions they had "always wanted to ask". One wanted to know if FloristWare would ever be adding a feature for fundraising programs (very popular right now thanks to a recent article in Floral Management) and it was a pleasure to explain that not only had we had it for years, but that we had been the first system to introduce such a feature and then hand over some detailed information - not just on how the feature works but how such programs should be structured for maximum benefit.
Another client had always wanted to ask about a particular report and was very excited to see what it did. They third had a suggestion for enclosure cards and we were able to sit down and actually sketch out some ideas together.
These are just some of the things that can happen over just a day and a half when you get committed people in a room together. We are grateful to SAF for putting such a great event together and appreciate the opportunity it provided to meet with our clients.
This was an amazing opportunity for me to to meet with florists, and for florists to take advantage of the great educational content provided by SAF.
Susan Page of FloristWare
Susan has been in this business more than twenty years and has been to more events than she can remember but felt this was one of the best.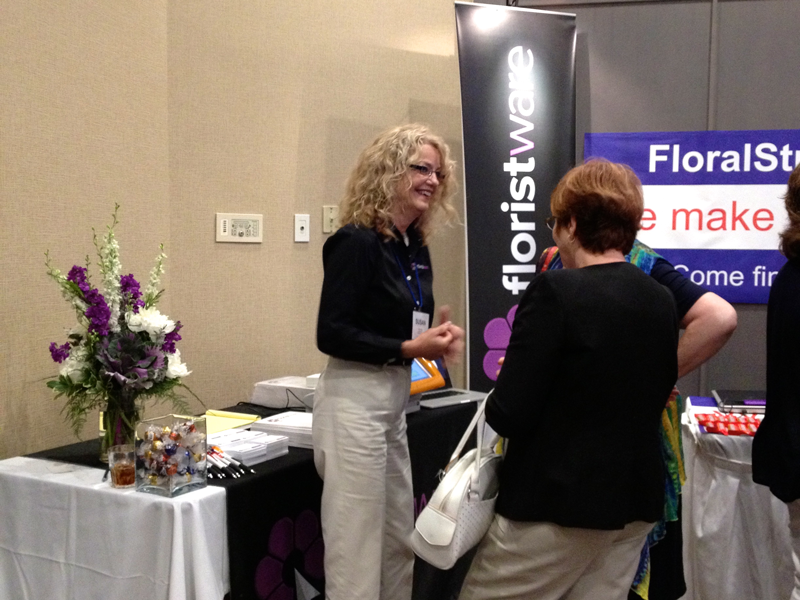 She enjoyed meeting with both existing clients and potential customers she has been speaking with. She was very busy and spoke with a steady stream of florists that were interested in learning more about FloristWare.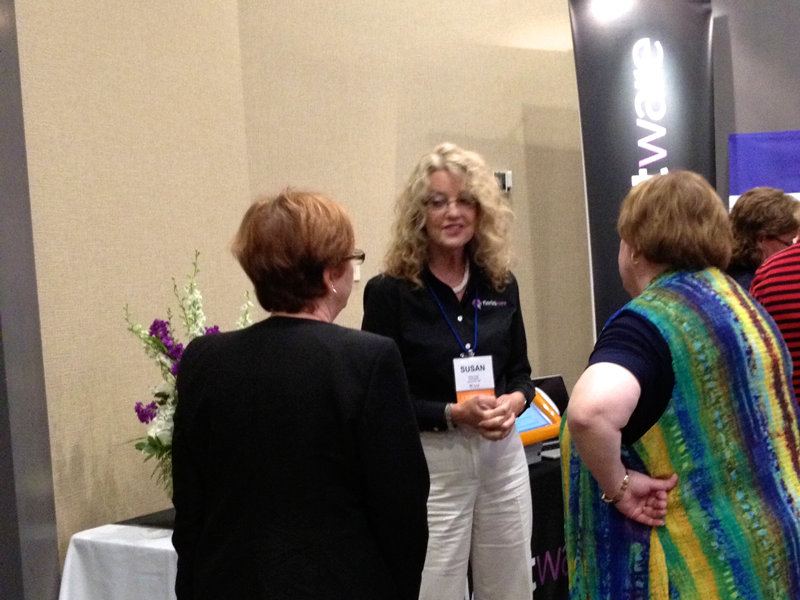 Lots of Activity at the Flower Shop Network Table
FSN does a phenomenal job taking care of their clients and it has paid off for them. These days it seems rare to encounter a shop that is not already an FSN member but Leslie Cox found a few and was able to show them the incredible value and get them signed up.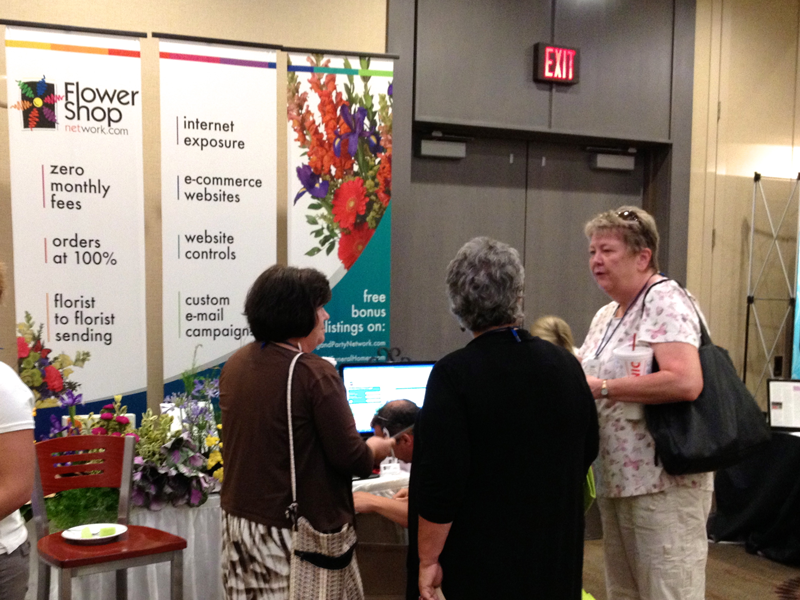 Meanwhile her boss Brock Atwill, founder of FSN and a true gentleman, was on hand to speak with existing clients and other attendees. Below he is speaking to Renato Sogueco, Chief Information Officer for SAF and author of the monthly "Plugged In" column for Floral Management magazine.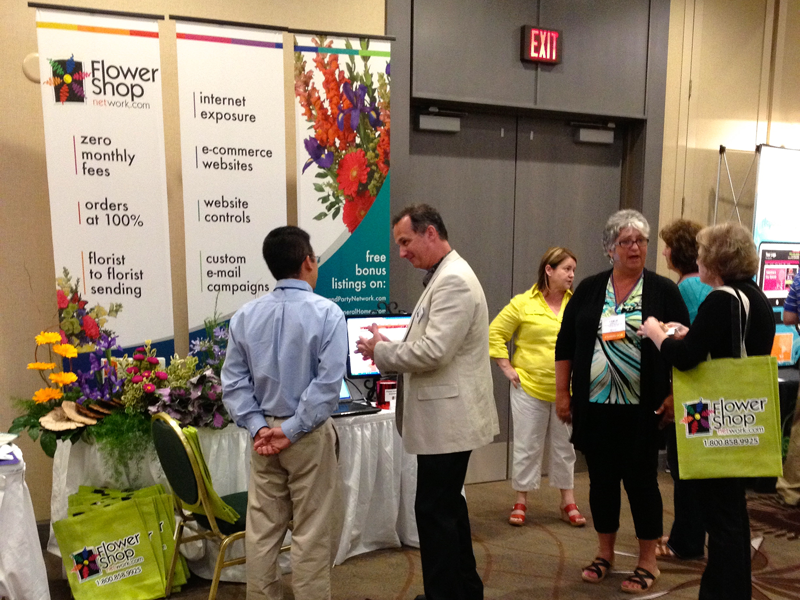 Ryan Freeman of FlowerChat and Florist 2.0
Ryan Freeman, founder of FlowerChat (the most popular online destination for florists) and the Strider Florist 2.0 website platform for florists, got a lot of benefit from the event. Between sessions he was able to meet with his clients and share his knowledge of SEO and during the sessions he picked up valuable information to take back to his shop – he's also a fifth generation florist.
Ryan – along with Jamie Adams of Flower Shop Network - will be presenting a session on SEO and social media at the 2013 SAF Annual Convention in Phoenix this September.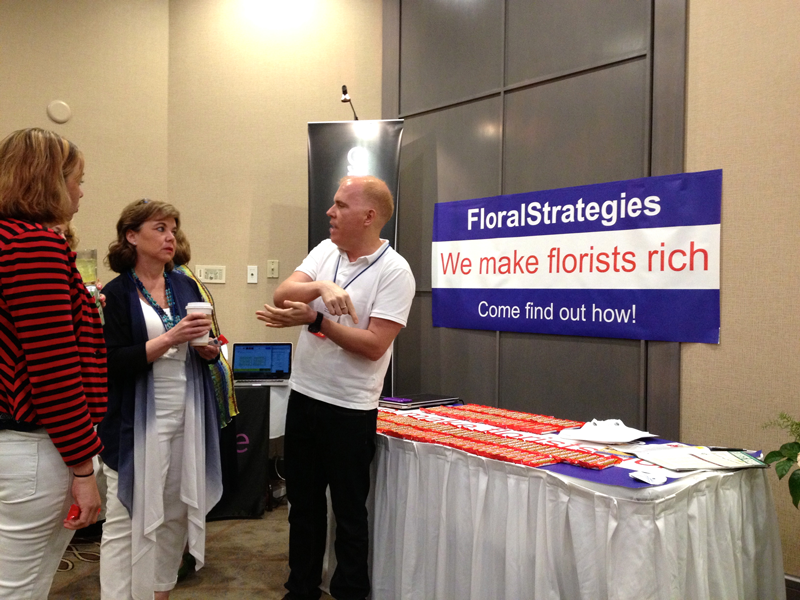 Tim Huckabee of FloralStrategies
As always Tim Huckabee of FloralStrategies and author of the monthly "CSI: Flower Shop" article in Floral Management provided one of the most popular sessions at the event.
After discussing the basics of his approached he phoned a number of real flower shops to place a test order. Then, with the help of the audience, he graded each one. Florists love this topic and everyone got ideas that they could put in place and start increasing average order values immediately.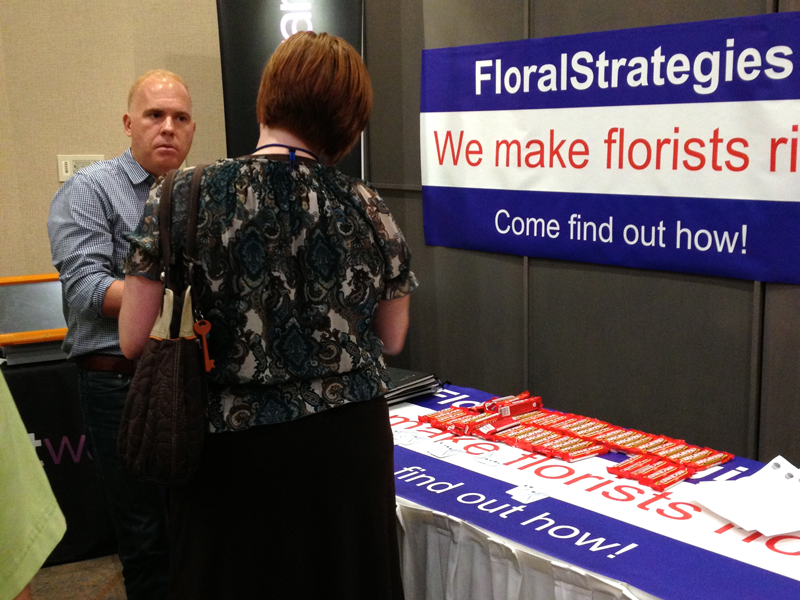 Other Highlights...
There were a number of other excellent sessions – more details below:
A 'Crazy' Compensation Plan — That Works
Manny Gonzales, Tiger Lily Florist
I always wanted to know how to set up a commission program and now I know how. Thank you. Good real world advice. Manny is so willing to be transparent about his experiences both the challenges and the victories that it inspires confidence and the "I can do that" attitude. His down home approach and conversational style is engaging.
The response to Manny's session was amazing - everywhere you looked people were leaning forward in their chairs making notes and nodding their heads in approval.
Smart Tech: Apps, Tools & Tactics and Tactics to Engage the Mobile Customer
Renato Sogueco, SAF
Renato always makes tech approachable.
Renato Sogueco – the CIO of SAF and contributor to Floral Management magazine – took some of the high level concepts presented by people like Jim Dion and broke it down into practical, real worlds steps applicable to our industry.