SAF 1-Day Profit Blast Des Moines Recap
The recent SAF 1-Day Profit Blast in Des Moines Iowa was a great success. The participating florists – without a doubt some of the very nicest people in the flower business – loved the content, gave great feedback and said they'd love to do it every year. There were beautiful displays of product from host the Bill Doran company and others, and the shops really enjoyed the chance to meet with vendors that work hard to support them and the industry.
Highlights from some of the sessions appear below...
Minimalist Design, Maximum Profit
Jacob McCall AAF, AIFD, FSMD, design and marketing director of The Elite Flower
In this design-centric session Sylvia Cup winner Jacob McCall of The Elite Flower covered a range of topics – going even as far as mentioning Missy Elliot, and the influence of hip-hop culture on his designs.
One thing that really got people sitting up in their chairs was the topic of proposal, and "prom-prosal" flowers.
Proposal flowers are flowers for people that are making big wedding proposals. As more and more couples are involved in elaborate marriage proposals, often recording them for posterity, they're also adding flowers to the occasion. Jacob has gone so far as to develop a proposal consulting business at the Elite Flower, and encouraged the other shops to do the same. He also recounted some very humorous stories of over-the-top wedding proposals that his shop had been involved in.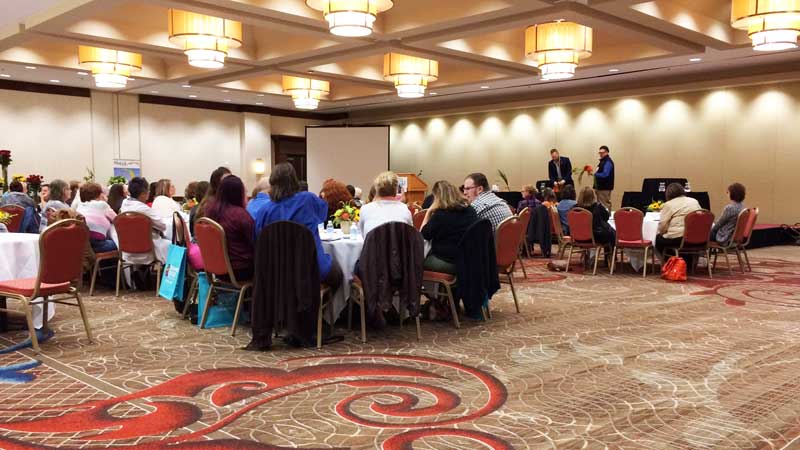 Prom-prosal flowers are for people "proposing" for prom. Like wedding proposals this occasion has become increasingly elaborate and often involves flowers. Jacob said this too is huge for him at his shop, and urged other shops to take advantage of this opportunity.
In another part of his session Jacob also talked a lot about fragrance, and how it is now part of design and growing. SAF Past-President and current Chairman of the Board Shirley Lyons asked him about how he prepared for the upcoming holiday season. Jacob stressed pre-booking Christmas products – including red roses – with wholesalers and suppliers. He also spoke highly of the durable and inexpensive unbreakable plastic Christmas ornaments, which he added to some arrangements with great effect.
Treasure Hunt: Finding Your Hidden Profits
Derrick Myers, CPA, CFP, PFCI, president of Crockett, Myers & Associates, Inc.
Derrick Myers, the best accountant for florists in the industry, has several presentations but this is probably his very best. It covers all business aspects of running a flower shop and owners and managers can always learn something new from it. There were people there who had seen the material before but were even more attentive knowing that there was still more that they could learn.
Derrick will be back at the next SAF Profit Blast, this one in Austin TX, in February 2016.
CSI: Flower Shop — Live!
Tim Huckabee, AIFSE, president of FloralStrategies, LLC
Tim Huckabee is the best sales trainer in the floral industry and his sessions are always a highlight.
He talked about the importance of the card message, which establishes both the event and the relationship between the sender and the recipient.Getting this information first, which provides so much valuable information on how to better serve and sell to the customer, has always been a cornerstone of the FloralStrategies approach to better selling.
Almost a decade ago FloristWare was the first POS vendor to reach out to Tim Huckabee, and integrate his approach into the way floral POS software worked. Since then he explained that almost all other POS systems had followed suit, and allow the user to enter the card message first. This indicates just how effective the FloralStrategies method is, and how it has influenced the way flowers are sold.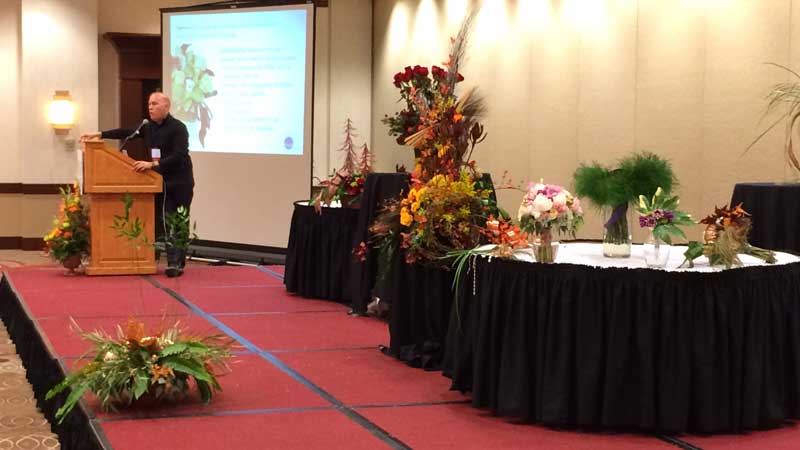 There were two more great indicators of just effectively Tim has been spreading his message. The first came on a test call to a small shop in Iowa. The florist had worked with Tim in the past, and asked for the card message first. She then, very astutely, swung for the fences – suggesting something in the $150-$200 range.
Even better – when it came time to lock in on an exact number – she went right for the $200.
This is exactly the kind of shop that so often insists that they can't ask for that kind of money, but she was clearly accustomed to doing just that, and seeing it work.
Almost, but not quite perfect, the call was also a great reminded that FloralStrategies training is great, but ongoing FloralStrategies training is even better. This is the most compelling evidence of all – shops that have FloralStrategies training in their shops want to do it again because they see that it is the best possible investment they can make.
With another call, attendees were surprisingly critical of a shop that actually did pretty well. Again this shows just how much Tim has influenced the way we approach selling in this industry – through his column and webinars he has raised the bar and expectations. Florists are much more likely to notice the little things that can go wrong when taking an order.
At this point there is no denying the advantages of the FloralStrategies method or the impact Tim Huckabee has had on the floral industry. Any florist can benefit from FloralStrategies training and should explore both the TotalTraining and inshore coaching.
360° Marketing
Art Conforti, PFCI, owner of Beneva Flowers & Gifts
Art Conforti is one of the very best marketers in the floral industry and he generously shared the best of what he has learned, the hard way, over his twenty plus years as the owner of Beneva flowers.
The main them was spending more to make more, and he started out with an anecdote from when he had first purchased his store. He went way out on a limb and spent $15K he didn't have to distribute a printed insert in the local newspaper. That generated $65, and Art was hooked on the belief that what you spend doesn't matter, only what converts.
He had some very specific, and constructive, thoughts on AdWords budgeting. Too often he says florists are focussed on the maximum daily spend and not on conversion. For example – a florist says they need to be absolutely certain that they don't spend more than $10 a day on AdWords.
Art's point was that the amount shouldn't matter – only the outcome. If that $10 is generating say $75 in sales then the shop should be willing to spend a lot more… as long as the sales generated by AdWords are profitable there is no reason to put a limit on the spending.
Conversely – if the AdWords campaign is not generating sales then anything, even $1, is too much. Why keep throwing money at something that doesn't work?
The key is tracking – monitoring what marketing money works and what doesn't.
This has always been close to religion at FloristWare, and is the reason that our AdTracker feature has always been so popular. Take the marketing money from the campaigns that don't work and put it into the ones that do. In just one example the FloristWare AdTracker feature helped countless flower shops really see just how ineffective their expensive telephone directory advertising really was – the AdTracker feature allowed them to actually put a value on the sales each dollar spent actually generated.
But that is just the start. The next step is to redirect that money into the campaigns that FloristWare shows are most effective.
Art also talked about the importance of test calls, similar to the kind Tim Huckabee had done earlier during his session. Only by constantly testing and training could sales and service be improved.
This is more important in floral than almost any other kind of industry because, in the vast majority of cases, the customer placing the order is purchasing for someone else. It's likely they will never even see the product, which means that their conversation with your staff is most of their experience with your brand. No matter how great your flowers are it doesn't matter to someone that never sees them, and remembers only the bad service they received over the phone.
Of course another part of this involves other communications with the customer, which is why FloristWare works so hard to have attractive and customizable receipts, invoices, statements, etc.
Art also talked about a disparity between the way people in the business think about flowers relative to "civilians". Those of us in the business think about flowers all the time. People outside the business think very little about flowers, and usually only when they need them.
As Art said:
"Nobody needs our product. They choose to buy our flowers."
The session also covered two things Art was deeply committed to as a flower shop owner. The first was spending 8-10% of retail sales on marketing.
Another was the idea of never making the customer feel like they were being penalized, and an example was priority service/delivery fees. If a customer says they need flowers delivered at a specific time the sales representative should never say "yes, but that will be an extra $". Mentioning a "Priority Service Fee" says it all.
Also – never say the price and stop. Always continue on with the added value> For example "Priority service will be an additional $9.95 and that gaurantees delivery in the next two hours".
Supplier Expo
The Supplier Expo was also popular. Over the past few years this has become a staple at all SAF events – florists really seem to like the chance to meet with the best vendors, and the ones that support the industry. FloristWare was very happy to take part, meet with both existing and potential clients and share ideas about how we can make sure that FloristWare remains the best POS/CRM systems for retail florists.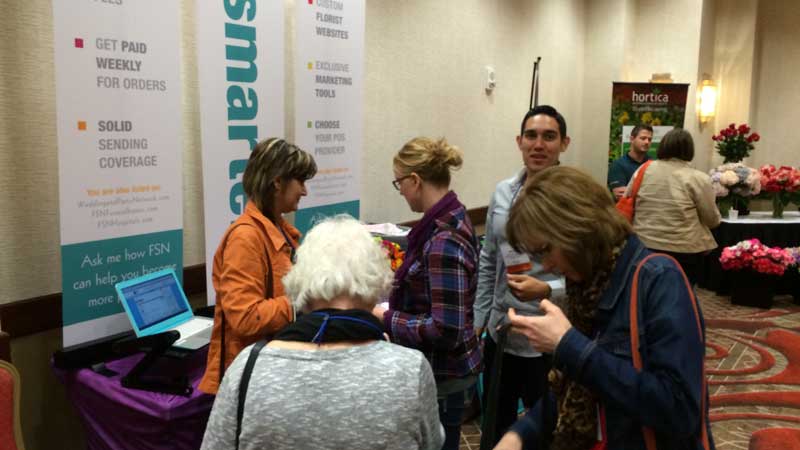 There were also some big Tim Huckabee fans in attendance. These ladies had been fans of his columns and webinars for years and were thrilled to get a picture with him.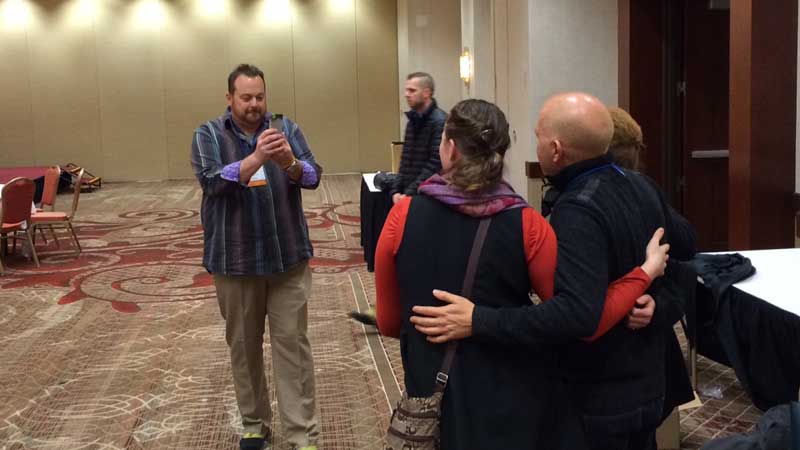 As always the event was run perfectly by Laura Weaver of SAF (Society of American Florists). SAF was also represented by Drew Gruenburg. The next Profit Blast takes place in Austin Texas on February 27, 2016.