Yelp! Now More Important Than Ever
We've talked about Yelp before, and how it presents local businesses, and florists in particular, a great opportunity…
Smaller local businesses have a distinct advantage over larger national chains on Yelp, something of particular interest to flower shops.
Yelp reviews appear in far more places than just the Yelp website – they also appear with Apple Maps and Siri among other places. Many people use Yelp reviews without even realizing it.
Your competitors are probably ignoring Yelp – almost 90% of small businesses do.
There were already plenty of good reasons to look into Yelp but things just got more interesting. Yahoo has just announced a new partnership that will place Yelp user reviews, business information, star ratings and photos in the results for Yahoo searches.
We're excited to announce that Yelp is partnering with a major search provider to make it even easier to find and connect with great local businesses. Guess who...it's Yahoo!

Official Yelp! Blog
This makes it even more important for you to claim and manage your Yelp listing, a process that we have described in the past. The idea is that you want to establish yourself as the owner of the business, make your listing more attractive and interesting, confirm that the information listed is accurate, and keep an eye on any new reviews.
It is worth noting that, at the time of writing, not all of Yelp's business listings are being included in Yahoo search results, and Yahoo has said that additional listings will be added in the months ahead. It does however appear that listings for florists are already being included.
It looks like the Yelp results are being placed in a block of five listings, below the paid listings and above the natural search listings. Below you'll see the results of a search for Havertown Florist.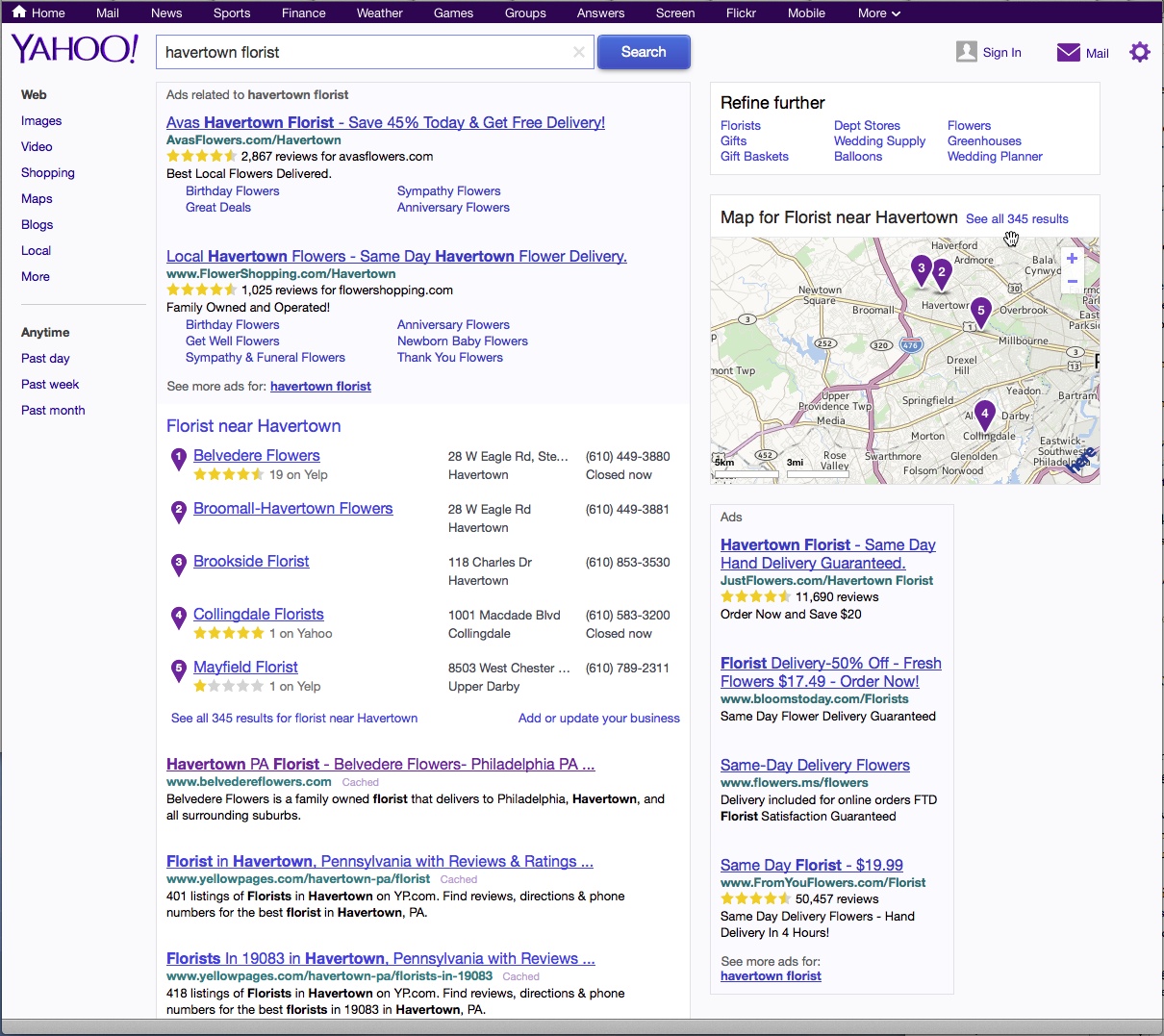 The ones at the top… definitely some order-gatherers up there but, unfortunately, those spots are always going to go to whoever is prepared to pay for them.
Next you see five listings pulled from Yelp, with their Yelp stars and links. When you click on one of those links you get this: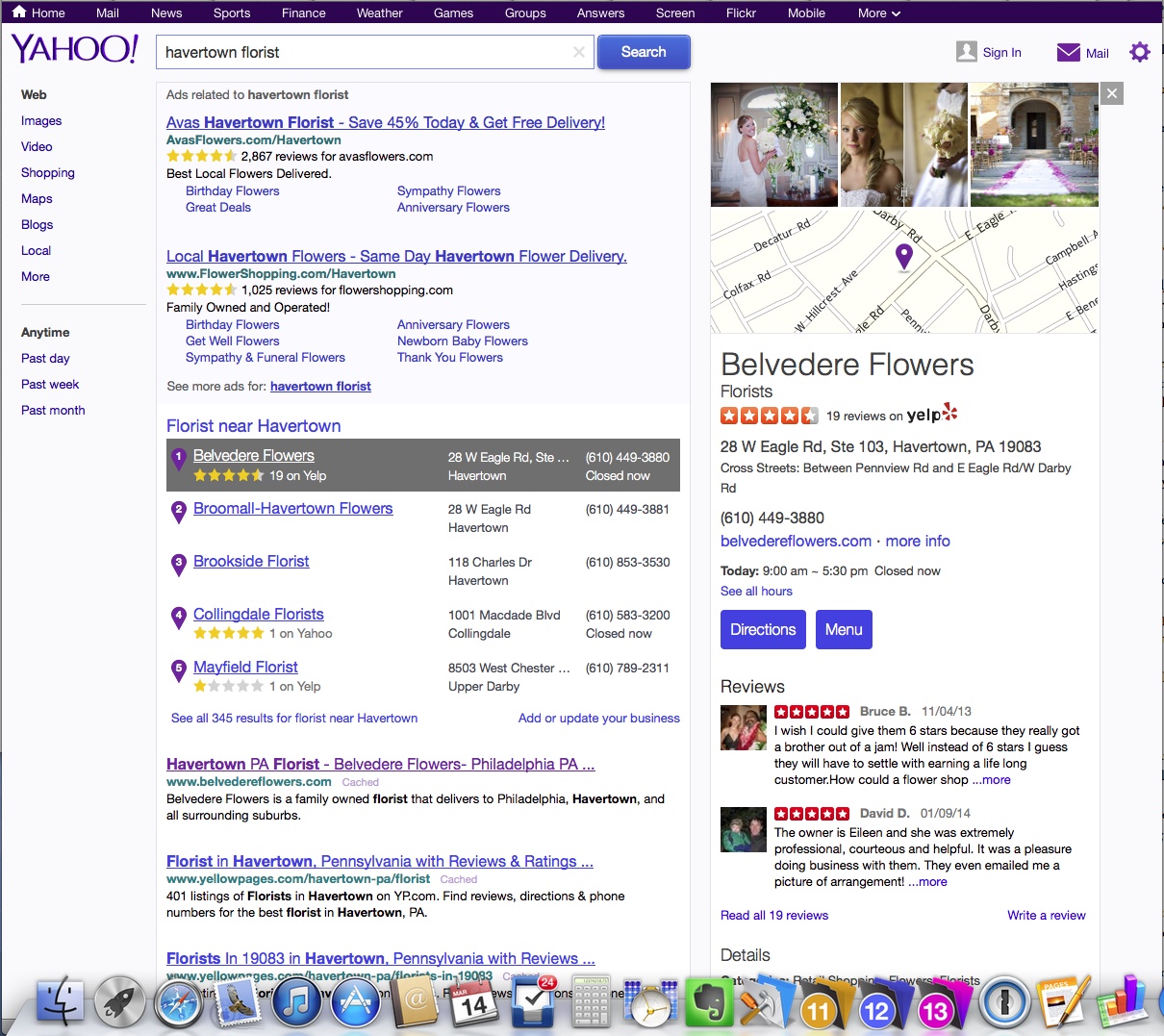 The information and images you see on the right? This comes from Yelp, and you get control by claiming and managing your Yelp listing. See why this is important?
Below that you see the natural search listings which, for now at least, are still being provided by Microsoft's Bing search engine. Doing well here in natural search is still important but, under this new model, people are going to see the Yelp results first.
How important is Yahoo? They certainly have a much smaller share of the search business than Google (11% for Yahoo vs about 67% for Google) but a large that doesn't mean that you can or should ignore them. Many of your competitors will though so this is a good chance to grab a bigger piece of a smaller pie.
But again - this isn't just about Yahoo. The news here is that the already considerable reach of Yelp reviews has just been extended again and you can benefit from it.
Further Reading:
Engadget: Yahoo now shows Yelp reviews when you're searching for local businesses
PC World: Yahoo gets help from Yelp to fight Google
Mashable: Yahoo Taps Yelp to Boost Search Results