The Seattle Wholesale Growers Market is a farmer-owned cooperative established in 2011. Comprised of seventeen Washington, Oregon and Alaska flower farms committed to providing the very best the Pacific Northwest has to offer in cut flowers, greens and ornamentals.
When the market is filled with people and flowers, there is a contagious feeling that we've achieved something really special.
The market is located in Seattle's Georgetown neighborhood, inside the landmark Original Rainier Brewery. Each week the market comes alive with activity as farmers sell flowers, greens, potted plants and ornamentals directly from the market to local florists, stores and professional buyers.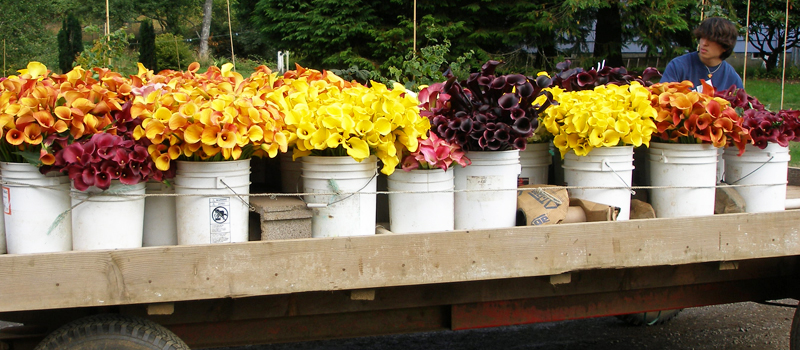 Mission Statement
To foster a Vibrant Community Marketplace that sustains Local Flower Farms and provides Top Quality Products and Service to the Floral Industry of the Pacific Northwest.

Selection
The Seattle Wholesale Growers Market strives to provide florists, flower shops and other floral retailers with a wide range of unique, high quality fresh seasonal product allowing them to fully express their creativity. As the seasons change, so does the selection of fresh local products available to market members.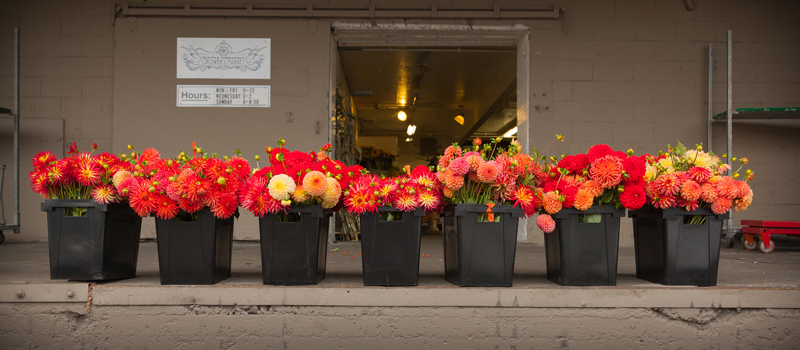 History
Flower farming is a passion driven industry that has long been part of America's rich agricultural heritage. By sharing resources and working together the farmers and buyers of the Seattle Wholesale Growers Market are keeping local farmers on their land, adding jobs and helping to preserve an important farming heritage for future generations.
It's a family operation. We do it because it allows us to be together and farm a product that makes us happy.

Membership
The market is not open to the public. It is open only to florists, event planners, grocery stores and other businesses related to flowers and floral design. A Washington State business license is also required. Qualified buyers are invited to fill out an application for a buyer's pass.
Greater Seattle Floral Association
The Seattle Wholesale Growers Market is supported by the Greater Seattle Floral Association (GSFA).
The GSFA is a strong and proud supporter of the Seattle Wholesale Growers Market. This groundbreaking cooperative of local flower growers is committed to sustainable agriculture and to raising the level of excellence in the green floral industry.
GSFA member florists strive to use these organic, locally grown products in their designs and event work. This makes it easier and more affordable for their customers to have eco-friendly events without sacrificing quality or beauty!