How To Take Advantage of Small Business Saturday At Your Flower Shop
The first-ever Small Business Saturday, designed to help small businesses do more business (and also to counteract Cyber Monday), took place on November 27, 2010. With the backing of founding partner American Express it encouraged people across the country to support small local businesses.
Just one year later it became official – with official recognition from the US Senate and the support of President Obama, countless states, senators, governors and mayors. By 2014 Small Business Saturday was thoroughly entrenched and consumer supported neighborhood businesses like never before, spending almost 15 billion dollars with small local businesses that day. In just five years Small Business Saturday had become an established holiday shopping tradition.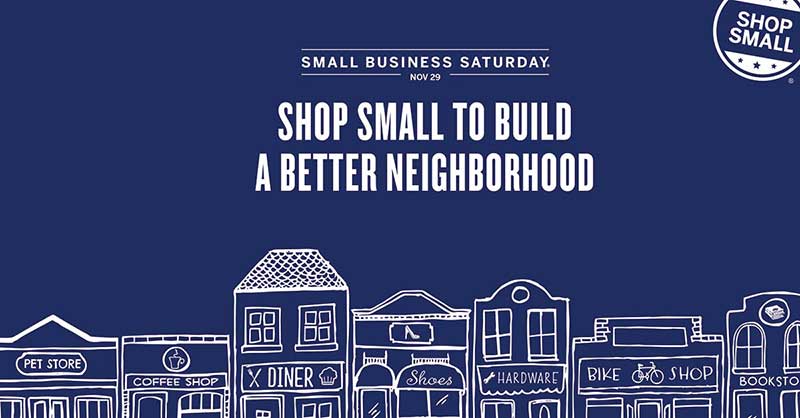 Real Local Florists Are As Local As It Gets…
…and stand to benefit from Small Business Saturday. It's a great opportunity to get people into flower stores and remind them that there is no substitute for a real local florist.
The Small Business Saturday website is packed with resources that can help florists take full advantage. It has everything florists need to make the most of Small Business Saturday.
Small business owner can explore the Shop Small website for free marketing materials that include free in-store signage, social media posts, and email templates – all designed to help promote your flower shop. Qualifying florists that accept American Express are eligible to receive even more benefits.

Planning Resources
Free guides and other marketing materials help florists make the most of Small Business Saturday. It's just one day, and these free tools help you start planning early. Florists can download social and digital materials to increase awareness and bring customers into their flower shops, and collaborate with other small local businesses.
Free Marketing Materials
Florists have access to downloadable materials they can use to promote their shops and in-store events.
Event Guides
Printable Signage
Save-the-Date Cards
Email Templates & Social Posts
Shop Small® Logos
These are available to all small business owners. A nice online editor (below) lets you create a message that is consistent with the official Small Business Saturday colors and style.
Free Online Ads and Shopsmall.com Listing*
Get showcased on the ShopSmall.com homepage and apply to have your business featured in Small Business Saturday® online media during the month of November.
Free Ad Placement
Free Listing on ShopSmall.com
Qualifying merchants need to ensure that their business location(s) have been included and are listed correctly on the Shop Small Map.

Free Shop Small Merchandise
Attract customers to your flower shop/in-store event with free Shop Small Merchandise, available to eligible florists.
Shop Small Tote Bags
Buttons
Balloons
Poster and a Pennant
Merchandise kits (including shipping) are free for all eligible* small businesses. There is a limit of one approved merchandise order and one approved free ad submission per business. The kits include tote bags, button, signage and more (subject to availability) to help florists get ready for Small Business Saturday.
* Free online ads and merchandise are only available to eligible small businesses and while supplies last. Find out who qualifies on the Shop Small website.
Other Shop Small Resources
Here are some other resources that can help florists prepare for Small Business Saturday: