FloralStrategies is the only on-site training program in the entire floral industry that teaches critically important customer care skills. You may have wonderful designs and a beautiful store but it does not matter if your staff does not communicate to customers effectively.
Only FloralStrategies training empowers your employees to give extraordinary customer service. Average order values typically increase by as much as $20, and sales and profits are higher. Designers are happy, as they get to do more interesting work. Recipients are thrilled with the better arrangements that they see, and that delights customers – making them more loyal and more frequent buyers.
Hi Tim – Just wanted to let you know that your workshop has been very effective at our store. This week we are now selling $80 arrangements instead of $50 arrangements, with ease and confidence!
Thanks!!!
Kayo
Hana & Posy
Sales and business skills are too often ignored in the flower business. Florists will continue to study design and often take several design courses a year, but little if any attention is paid to sales and service. It's a shame, because florists don't get to do the kind of high-end work that they love if they don't know how to sell it. FloralStrategies can help.
Hey Tim – Just wanted to let you know I just took a $100 order from a customer who normally sends an average of $75! Your system is so easy and really works.
Thanks, Joe
Eco|Stems
Some shops think hiring a consultant is an admission of failure. It's easier to just say "we're already doing everything perfectly" than admit that sales and service could be handled better. Than admitting that money is getting left on the table by underselling, and has been for years.
But the truth is that the most successful operators, big and small, regularly use consultants and trainers. Getting expert training is not an admission of failure or a cry for help – successful companies are successful because of their ongoing investment in training.
Hi Tim – We just want to let you know how much we all enjoyed having you in our shop. Each one of us has had successful results when using the sales techniques that you spoke about. Yesterday I had a phone sale that started out as an $80 order and they upgraded to $200.00! (from a group). We are looking forward to viewing the webinars too!

Thanks very much, Donna.
Brooklin Floral & Garden Shoppe Inc.
Most successful retail florist operations, big and small, use FloralStrategies training. And they don't just do it once – having seen how powerful it is they generally want in-store training at least once a year and often more. They realize that this training is the best possible investment they can make in their long term success.
Tim – I have heard great feedback from the staff. The best response I heard was "This is definitely taking us to a new level of sales and customer service." I am really looking forward to continuing to work with you down the road. Thank you for your time, patience, and expertise.
Skip Paal
Rutland Beard Floral Group, Inc.
FloralStrategies offers several different training options:
On-Site Training
The only on-site training program in the entire floral industry that teaches critically important customer care skills. One of the extremely talented AIFSE professional trainers will come to your shop and spend the full day working with your staff. Stores typically see average order values increase by as much as $20, quickly covering the cost of the training. The benefits are so profound that most florists choose to book on-site training at least once each year.
Webinars
This the most affordable way to start enjoying the benefits of FloralStrategies training – all you need is a computer and internet access. FloralStrategies webinars cover a variety of topics and you can watch webinars live or select a recording from their library – a library that covers nearly every aspect of the business. Many shops test the waters with webinars, with most quickly realizing that they want to book in-store training as quickly as possible.
TOTALtraining
This is the ultimate training program for you and your staff. It includes:
A monthly interactive webinar for your staff, giving them the chance to hone their skills through role play, questions and answers, and reinforcement of the FloralStrategies order process.
A bi-monthly webinar for owners and managers, connecting them with other shops from around the world to share ideas and discuss experiences and issues.
A monthly sales tip to print, share with your team, and post at every workstation.
A monthly "phantom shopper" test call to your shop, along with a recording and detailed report, giving valuable insight on whether your employees are following the training and providing the best possible service.
"Train the Trainer" webinar, designed to help develop more effective sales management skills.
A monthly private fifteen minute one-on-one coaching session with a certified AIFSE trainer to review any issues, questions about sales management, etc.
Discounts on the ongoing and highly acclaimed SAF/FloristWare webinar series.
An annual private 90 minute webinar, customized solely for your shop, that uses your prices, products, POS system and point-of-view – the most focussed and relevant possible training for your shop short of an in-store visit.
Best of all TOTALtraining members get one free annual store visit – a full day of on-site training with an AIFSE accredited trainer at no charge. The TOTALtraining package is an outstanding value.
CSI: Flower Shop
FloralStrategies founder Tim Huckabee also contributes one of the most popular monthly columns to FloralManagement magazine.
Conventions and Conferences
Tim and other AIFSE trainers like Sam Bowles frequently speak at floral industry conventions and events. They bring exciting, relatable and actionable business content to the main stage every time, and participants return to their shops ready to provide better customer service and generate bigger sales. These sessions are often sponsored by FloristWare and more information can be found in our floral industry events section. If you are interested in booking FloralStrategies for a main stage session at your event please contact them at 800.983.6184.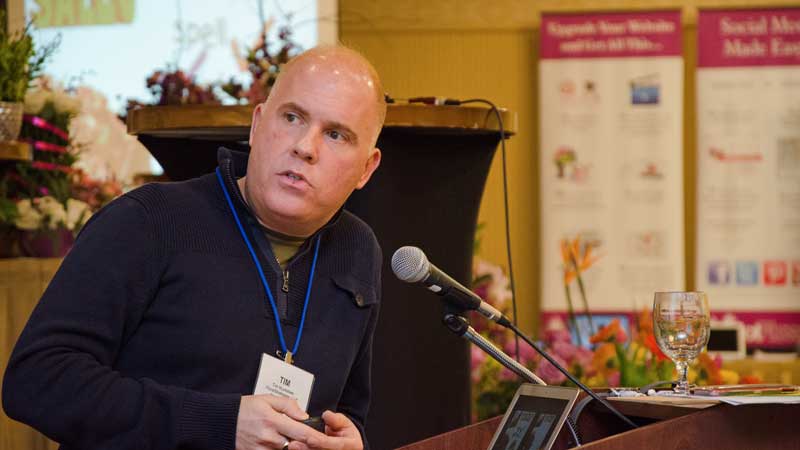 Florists at SAF Growth Solutions 2015 participating enthusiastically in the FloralStrategies session. Founder Tim Huckabee is presenting while Sam Bowles AIFSE (background) helps out.