Sales & Service Training For Retail Florists: Why When and How
Sometimes it seems like the biggest and most successful shops know things that less successful shops don't. Sales training is one of those secrets. Less successful shops are content to think that they already know it all, and that it can't be done any better. More successful shops realize that sales training is an ongoing process, an investment in success, growth, and profitability.
Why Should You Invest In Sales Training For Your Flower Shop?
Sales & service training costs money and, in a retail flower shop, there are always other places you could spend that money. So why invest it in training?
Sales Training Increases Sales & Improves Customer Satisfaction
SAF (the Society of American Florists) recently released some statistics from their member flower shop relating to sales in December 2015. Included was the following chart that showed the percentage of online sales – floral orders placed online with an ecommerce website.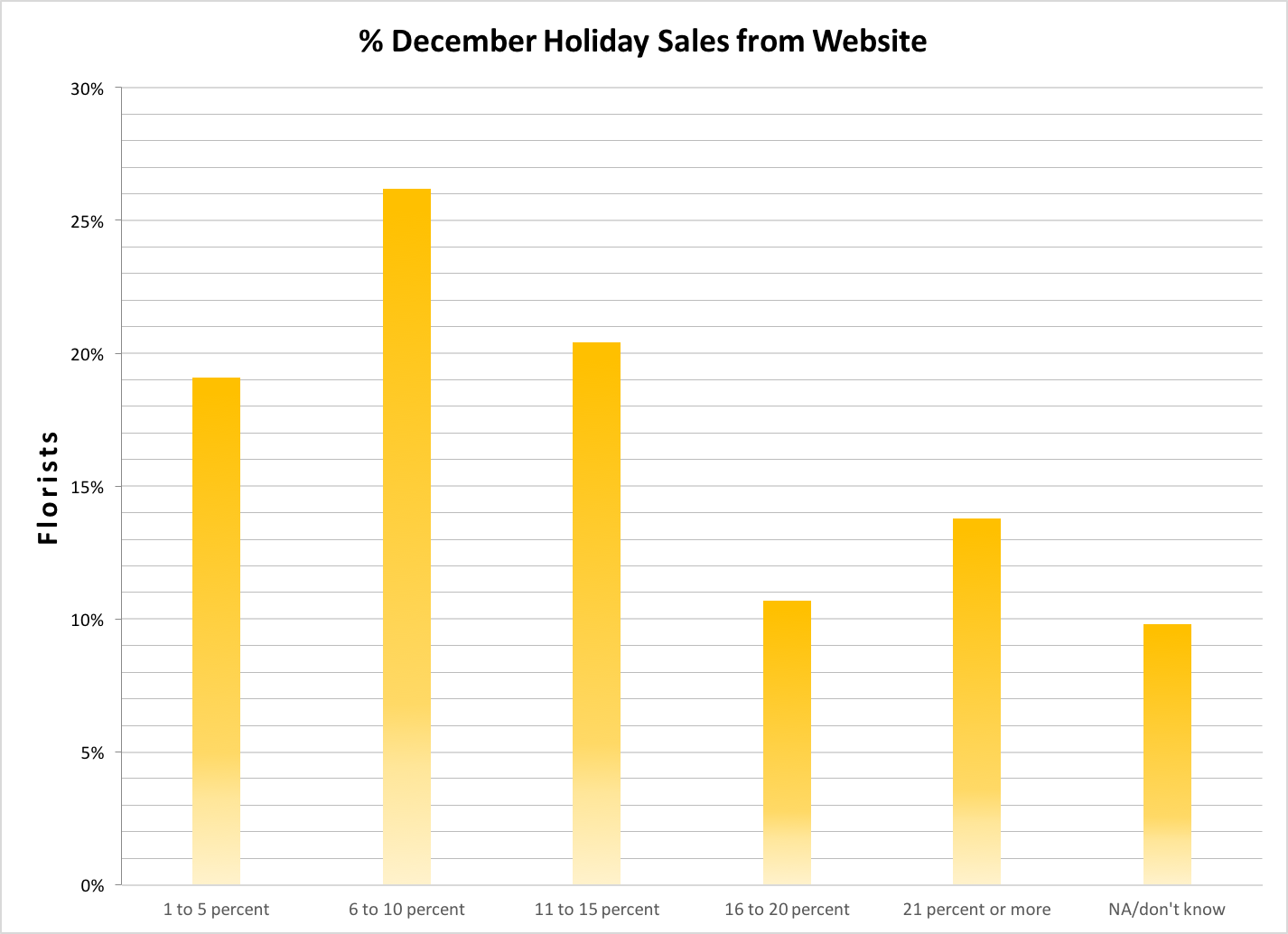 SAF has long championed the importance of having an online presence and presumably included this data to support that idea. And it holds up – about 70% of the flower shops surveyed are seeing at least 5% of their sales come from their floral websites. Almost 25% of the shops surveyed generate at least 16% of their total sales through their websites. Clearly it is very important for florists to have an online presence in the form of an eCommerce website.
But – if we flip the numbers around and look at them another way we see something very different: "Traditional" sales – phone orders and walk-ins – are still the absolute, undisputed heavyweight king of the flower business:
45% (maybe 55%*) of shops get 10% or less of their business from their website
∴ 90% or more of the sales volumes for 45% (maybe even 55%*) of shops involves a call or other interaction
65% (maybe 75%*) of shops get 15% or less of their business from their website
∴ 85% or more of the sales volumes for 65% (maybe even 75%*) of shops involves a call or other interaction
76% (maybe 86%*) of shops get 20% or less of their business from their website
∴ 80% or more of the sales volumes for 76% (maybe even 86%*) of shops involves a call or other interaction
* assuming the n/a means none or inconsequential.
That doesn't mean that a floral website isn't important. It is, and providers of websites for florists would correctly point out that even if the customer doesn't order online there is a very good chance that they found and contacted the shop because of the website.
But those calls are part of the vast majority of sales volume not actually processed on the website. Every one of those "traditional" sales, the vast majority of overall volume for the vast majority of florists, still involve an interaction. Sales training makes each and every one of those interactions better and more profitable.
Your Customers Want To Deal With Trained Proffesionals
Modern consumers are arguably, with the aid of online product reviews and price comparisons, more informed than ever. Why would they need the help of a sales associate?
Based on findings from a study by University of Pennsylvania professor Marshall Fisher more than 50% of shoppers still seek advice when they enter a store. And good sales associates had a tremendous advantage:
As a result, educated and engaged store associates who could meet consumers' needs—especially knowledge about a specific product—rang up sales that on average brought in 69 percent more money than those who didn't, the study found.
The 'fundamental flaw' that's costing retailers - CNBC
But it gets even better. The study also showed that by actively helping shoppers with their problems, educated and well-trained staff also drive repeat store visits and make people less likely to return their purchases. This is incredibly important in the flower business, where so many customers have little knowledge of the product.
Too often this part of the flower business is just dismissed as "order taking", a simple task to be performed by minimally trained "order takers" that are expected to do little if anything more.
When Is The Best Time For Sales Training In Your Flower Shop?
Sometimes it can seem like there is no good time to do sales training at your flower store. When the big days (Valentine's Day, Mother's Day, etc.) are on the horizon it's tempting to put it off until after. But then when things slow down it's tempting to sit on the money, and rationalize it because things are slow.
The single best time to invest in sales and service training for the employees in your flower shop is right now. Sure – the weeks of Valentine's Day and Mother's Day would be exceptions but pretty much any other time is good.
When things are slow it gives you time to really focus on implmenting what you are taught, and you will be making more money on every sale when they are relatively few and far between. And if you are going into a peak period you will see even greater immediate results – you will be making more money and providing better customer services on all of those extra sales. The money you spend on in-store training, or webinars, will pay for itself almost immediately.
Where Can You Get Sales & Service Training For Your Flower Shop?
Sales training is critical, and there is no better sales training in the flower business than Tim Huckabee with Floral Strategies. The original and best sales trainer in the floral industry, Tim has built a method and a team of trainers that will make each and every one of your employees a better sales associate.
Sales Training Will Improve The Profitability Of At Least 80% Of The Sales Volume For At Least 76% Of Shops
Real Feedback from Real Florists from Tim Huckabee on Vimeo.