Chartered by an act of Congress in 1884 SAF (the Society of American Florists) was officially formed in Chicago by twenty-one members of the American Association of Nurserymen, Florists and Seedsmen. It is the only national trade association that represents all segments of the U.S. floral industry.
SAF membership is open to all individuals and companies in the floral industry. There are over 7,000 members and that includes the top retailers, growers, wholesalers, importers, manufacturers, suppliers, educators, students and allied organizations in the floral industry. SAF is also the face and voice of a strong, unified floral industry in Washington.
Mission Statement
The Society of American Florists is the association that provides marketing, government advocacy, industry intelligence and best practices information for all participants in the U.S. floral industry. And since selling is what it is all about, SAF helps the entire floral industry with an aggressive public relations campaign educating consumers about the benefits of flowers.
Floral Management Magazine
SAF also publishes the outstanding Floral Management magazine. Absolutely the best source of business information in the floral industry it also features some design content.
One of the most popular ongoing columns is "CSI: Flower Shop" written by Tim Huckabee AIFSE, founder of FloralStrategies and frequent speaker at SAF events.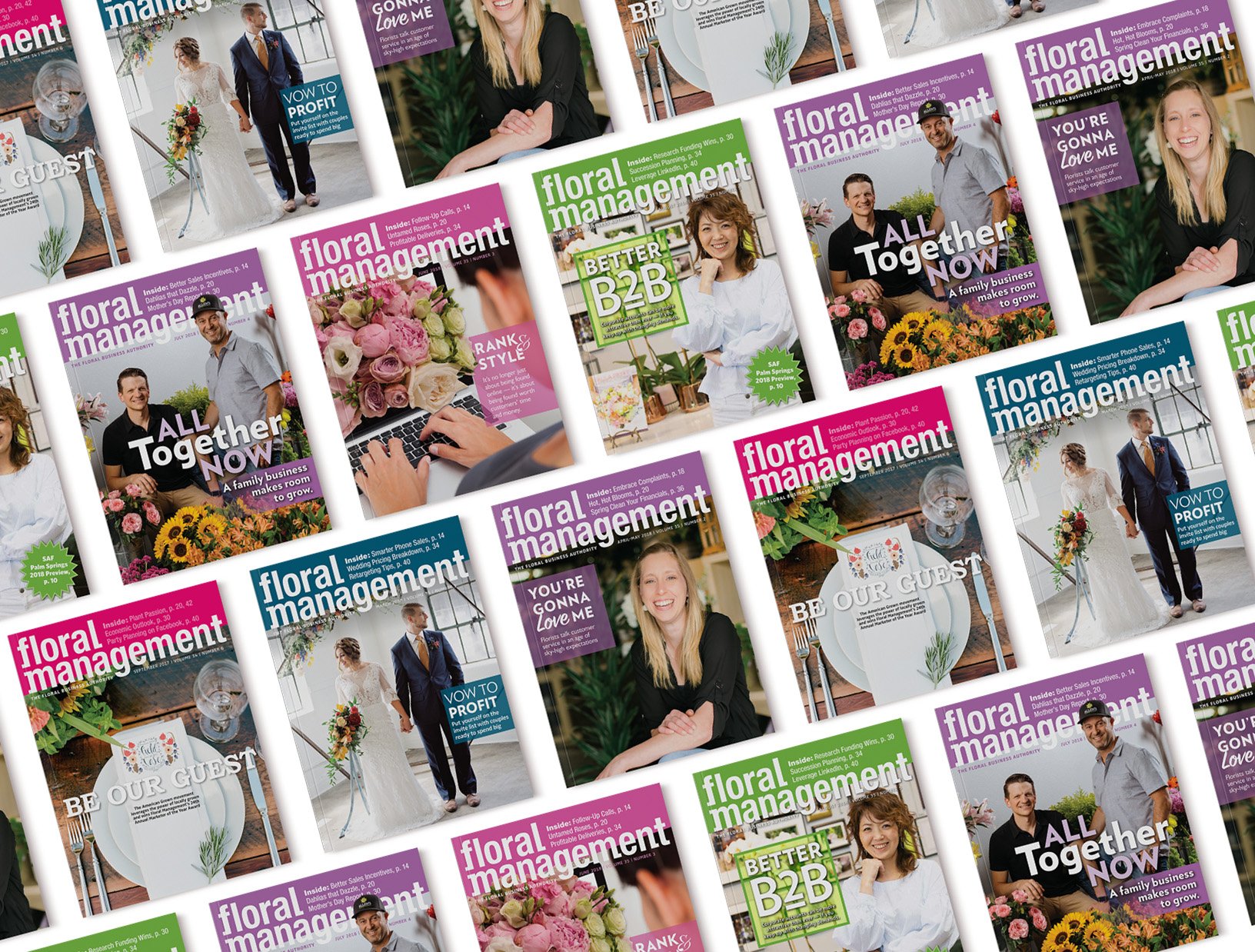 Derrick Myers of Crockett Myers is also a regular contributor, writing a column about accounting for retail flower shops. Renato Sogueco, SAF CIO, writes another popular monthly column called "Plugged In" that covers technology relevant to florists. FloristWare founder Mark Anderson has contributed a number of articles to this column, covering topics like Yelp! for florists and security basics.
SAF Events
SAF also hosts some of the biggest and best events in the floral industry including...
SAF Annual Convention
Usually held in August or September each year the Annual SAF Convention is the biggest event of its kind. It typically includes approximately forty education sessions and events including...
First Timers Reception* (first timers only)
President's Welcome Party
Kick-Off Breakfast
All Industry Session
Multiple Educational Sessions
Suppliers Expo
Next-Gen Reception
Business Session and Keynote
New Varieties
Stars of the Industry Awards Dinner

SAF One-Day Profit Blast
The SAF 1-Day Profit Blast is another attempt to bring more great educational content to more florists. This event is even easier to participate in than Retail Growth Solutions – it is just one day long and very affordable.
Profit-Blast still contains outstanding educational content that will help retail florists be more successful. Typical presenters might include Tim Huckabee (FloralStrategies), Renato Sogueco or Derrick Myers of (Crockett Myers).
SAF Congressional Action Days
Every year during Congressional Action Days SAF members meet in Washington. This event includes a trip to Capitol Hill where members get to meet with politicians and help them understand and appreciate the concerns of the retail floral industry.
Action Days also include some amazing social events, including sightseeing in the DC area. It is an outstanding opportunity for political tourism as well as a chance to be heard and make a difference.